Ingredients to revolutionise your skincare routine.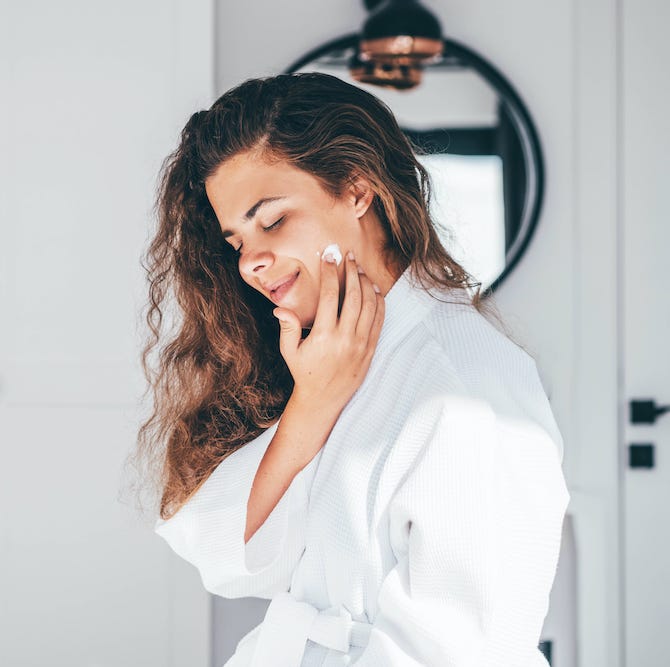 MARIA KORNEEVA
Whether it's a swift face wipe and a sliver of moisturiser or a ten-step morning routine incorporating serums, acids and retinoids, almost everyone has a skincare routine.
But unless you're a serious skincare obsessive, you probably aren't reading the ingredients list on the products you buy and use, namely because few of us know what benefits each individual skincare ingredient actually has.
But having an understanding of the ingredients used in your skincare products can help you transform your skin and ensure that they are tailored to your skin's needs – as well as your daily routine and habits.
To help, we're taking you through five ingredients that will level up your skincare regime, including the issues they can help tackle and the types of products you'll find them in.
Vitamin C
Health experts have long since championed the importance of getting enough vitamin C in our diets, after all, eating the correct fruit and vegetables can help to boost your immune system. But vitamin C is also used in a wide range of skincare products, it helps protect the skin from environmental irritants like pollution and free radicals. This can diminish fine lines and wrinkles, as well as making your skin look bright and plump.
Simple's Simple Booster Serum 10% vitamins C + E + F contains a form of vitamin C that is perfect for people with dry and sensitive skin, with a formula that won't irritate your skin.
Vitamin B5
Vitamin B5 is your dry-skin saviour as it stabilises your skin barrier, helping to improve water retention. This can make your skin more plump and even reduce fine lines and wrinkles. One study even found that vitamin B5 can help to reduce acne.
Advertisement – Continue Reading Below
Simple's Hydrating Mist Protection is infused with vitamin B5 and it couldn't be easier to add this product to your skincare routine to reap the benefits of this ingredient. You can use it both in the morning and the evening or as a top-up throughout the day for when your skin feels tired or dull.
Aloe vera
When you think about aloe vera, you often associate it with slathering yourself in lotion after falling asleep on the beach on holiday. But aloe vera is used in a range of skincare products for its calming and soothing properties and it absolutely isn't limited to sunburn treatment. Aloe vera is a naturally derived product and it's nutrient and mineral-dense. It's definitely an ingredient you should prioritise if you have dry skin and are looking for some extra hydration.
Simple's Kind to Skin De-stress Sheet Mask uses aloe its formula along with a range of multivitamins, so you can soothe and brighten your skin in just 15 minutes.
Witch hazel
Witch hazel is naturally extracted from a North American plant and it is thought to help with acne and inflammatory issues, like eczema and psoriasis. Research has also found that witch hazel contains antioxidants, meaning it could have anti-ageing properties.
Simple's Daily Skin Detox Purifying Face Wash has a vitamin-rich formula, combining 5% witch hazel with zinc, the perfect formula to properly cleanse and nourish your skin no matter what its been faced with during the day, from sweat to pollution.
Zinc
Zinc is an essential nutrient which means your body needs it to do things like create DNA, grow cells, build proteins and support your immune system. However, in skincare, it's also been shown to help with acne and has become one of the most-studied acne treatments. Zinc is thought to treat problem skin by reducing bacteria, along with limiting oil production.
As well as Simple's Daily Skin Detox Purifying Face Wash, the Daily Skin Detox SOS Booster also contains Zinc, which is perfect for people with acne-prone skin to help keep oil at bay at all times.
---
Find out more about how Simple works with your skin and shop the range here
About Author