Personal Protective Equipment for the hair, spa and beauty industry!
Keeping your staff – and your customers – safe when you reopen is undoubtedly one of your biggest concerns. And one way to prevent the spread of coronavirus in your salon is having the right Personal Protective Equipment (PPE).
The new guidance from the Department for Business, Energy and Industrial Strategy (BEIS) for close contact is regularly updated and includes details of the PPE you'll need as a freelance or salon-based hair and beauty professional.
Lesley Blair, Chair of BABTAC (British Association of Beauty Therapy & Cosmetology) says, "Given the nature of our business it is impossible to social distance so our sector falls into the high risk retail category on the government report. There's no doubt therefore that you'll need to use PPE, regardless of whether you're in the salon, at home or mobile."
What is PPE?
Personal Protective Equipment (PPE) is exactly that: equipment to protect you from health and safety risks at work. For the hair and beauty industry, recommendations from the Health and Safety Executive (HSE) recommends face coverings, gloves, aprons and – for some treatments – eye protection.
With the coronavirus pandemic, the use of PPE – particularly face coverings – is now widely mandated for lots of different industries and for everyday life.
"The demand is going to be larger than we've ever experienced in our industry. But I'm fairly confident there'll be enough supply as long as people don't stockpile."
What PPE will I need?
Workplaces such as hairdressers, barbers, beauty salons and tattoo and photoshoot studios require close proximity to clients for extensive periods, meaning it's difficult to maintain social distancing measures. As you're providing a service, you should therefore wear further protection in addition to any that you might usually wear.
The new BEIS guidelines recommend all of the above businesses should wear a Type II face covering with a well-fitted clear face visors that cover your forehead, extend below your chin and wrap around the side of your face. These visors form a barrier between the wearer and client from respiratory droplets caused by sneezing, coughing or speaking and are available in both disposable and reusable form. If you choose to wear a reusable visor, make sure you sanitise it regularly.
While face visors reduce the risk of catching COVID-19, you will have to self-isolate for at least 10 days if you're contacted by the NHS test-and-trace service confirming you've come into contact with someone who has tested positive.
It's also highly recommended to wear the following PPE:
Disposable gloves- to reduce dermatitis
Face masks
Goggles
Aprons
Salon reception and till desks should be fitted with protective screens when booking appointments and making payments. These can also be used in nail bars for nail technicians giving clients manicures.
How much will PPE cost?
This will depend on where you buy your PPE you're advised to use. But the good news is you should be able to ask clients to cover the extra cost. On average, the additional surcharge could only cost between €2.50-€5.00, but it's down to the individual business and treatment being provided.
Lesley says, "Beauty therapists generally don't make high margins off treatments so I think it's reasonable to pass the cost (or part thereof) of PPE onto the client."
Keith agrees and says, "Salons have lost three months revenue and now they have to buy lots of PPE. This is possibly a cost you can pass on to your client."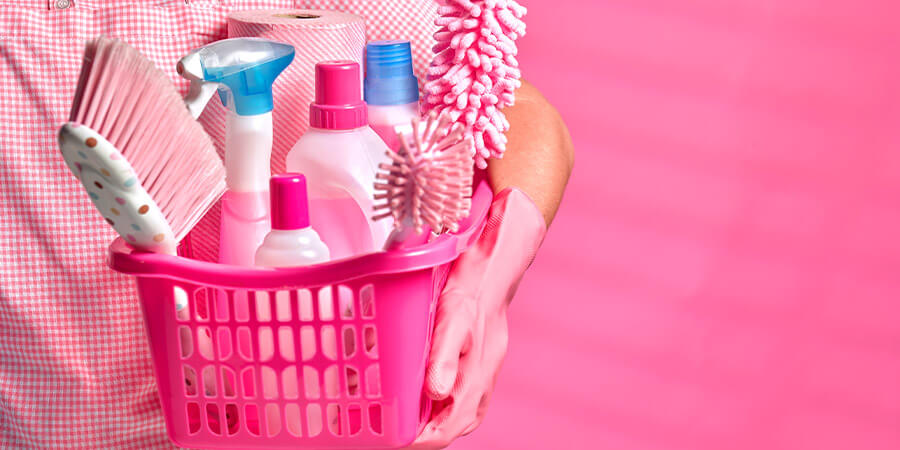 Where can you get PPE for the hair and beauty industry?
Salon Services stocks a range of disposable gloves, face masks and visors.
Keith says, "The demand is going to be larger than we've ever experienced in our industry. But I'm fairly confident there'll be enough supply as long as people don't stockpile."
Should you ask clients to wear PPE?
According to government guidelines, clients must by law wear a face mask in nail, beauty, hair salons and barbers as of August 8th 2020 unless they are exempt and depending on treatment. While subject to change, you and your staff must still wear a face covering & visor and maintain social distancing as much as possible. Social distancing and regular hand-washing are the most effective methods of preventing the transmission of COVID-19.
Will a visor protect me from Covid-19?
Wearing a face covering with a clear face visor reduces your risk of catching coronavirus and transmitting.
The guidelines say, "In instances where you are contacted via the [NHS] test and trace service, having been in contact with someone who has tested positive for COVID-19, you will still need to self-isolate even if you are wearing a visor at work. This is because the risk of transmission cannot be ruled out, even if wearing a visor reduces that risk."
This page was last updated on March 8th 2021.
Stay inspired