HYDRA NANO DERMA STAMPS PEN
€ 126.77
Minimum Qty: 1
Compare
Description
Hydra Pen H2 Professional Microneedling
Micronnedling dermapen
Hydra Pen H2 Meso Dermapen is a new concept skin care device. It is equipped with a containable needle cartridge , the essence, hyaluronic acid and cream will penetrate into the skin automatically while doing the MTS movement, which greatly improves the efficiency and effect of skin care treatment.
Main advantages of mesopen dermapen
1. Containable needle cartridge.
2. Automatic application, clean and hygiene
3. Available for different essence
4. LED display of speed
5. Comfortable hand-held design
6. Build-in battery, wireless operation
Features of hydra pen dermapen
1.   Atomatic and charging
2. Adjustable Needle length from 0.15mm/0.25mm/0.5mm/1.0mm
3. Adjustable 4 level speed control from 1800rpm to 7000rpm
4. H12/HS Nano/HR Nano  needles Tip using 30 gauge Acupuncture Needles to reduce discomfort
5. Digital Motor in Hand-piece
6. Highest quality for medical professionals(Aluminum Housing)
7. Optimal absorption of products
8. Compact and ergonomic design
Dr.pen using the Dermapen is revolutionary new treatment that encourages the skin's own natural healing by piercing the epidermis and dermis (surface of the skin) and encouraging the production of collagen.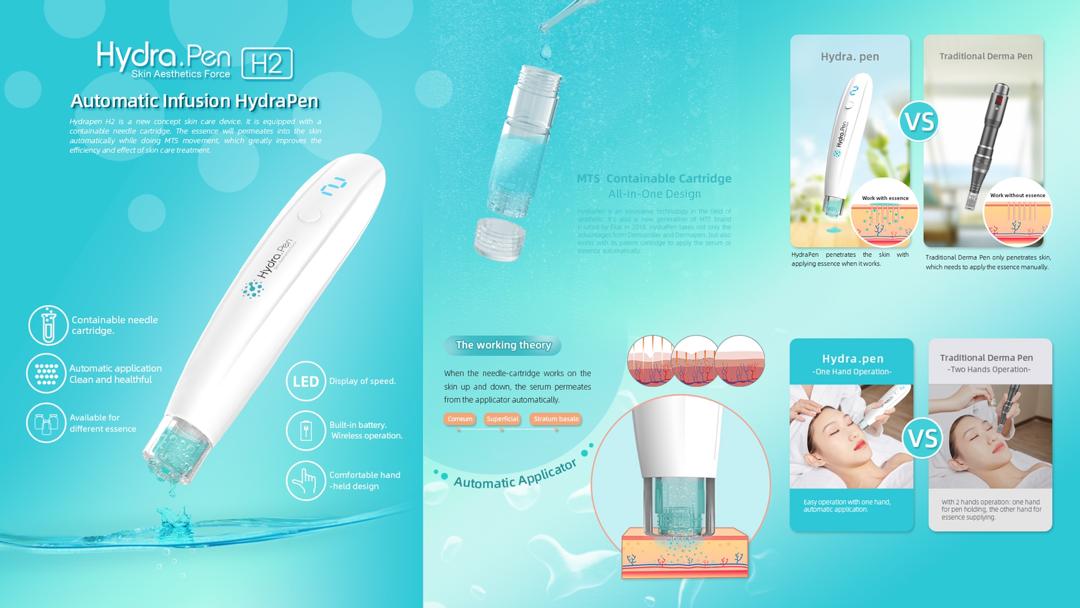 Box: 1x hand piece,1x adapter,1x manual,1x power cable,1x charger,2x cartridge 12pin
CE certificate . 12 month warranty is included.